×
Volunteer! Our site Owl to see! needs you!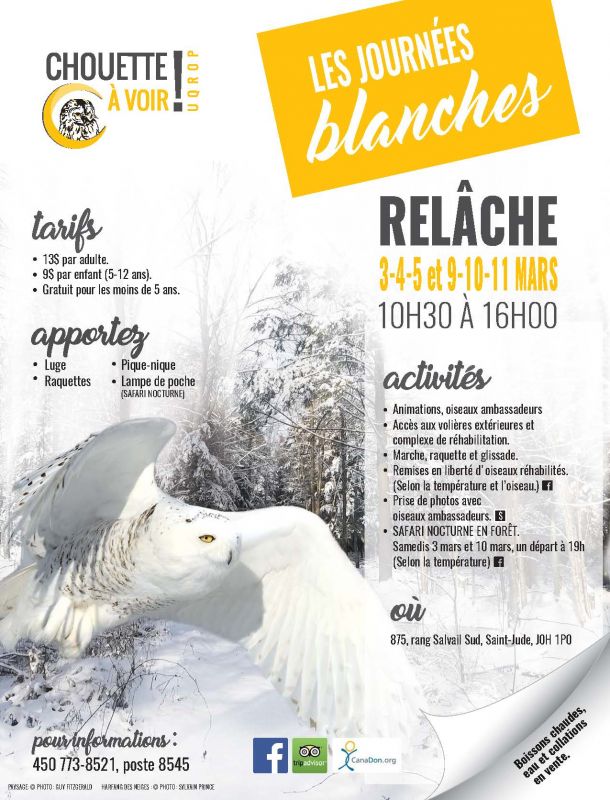 Welcome to the official website of the Union québécoise de réhabilitation des oiseaux de proie (UQROP), a provincial network dedicated to the rehabilitation of birds of prey. This website is devoted to the 27 species of raptors that are native to Quebec, each of which are equally fascinating. You will learn a lot about these mysterious and endangered birds, as well as about our rehabilitation efforts, which are among the most important and specialized in North America. We receive on average of 350 injured birds of prey every year, which are treated in order to eventually be released back into the wild.
If you belong to a school, a company, an ornithological club, or if you are a on vacation in Quebec and looking for interesting locations to visit, you can learn more about birds of prey by visiting our interpretation center Chouette à voir! or you can contact us to book a conference or an educational activity with live birds of prey.
Enjoy your visit !
**********
Last News

Aidez les oiseaux de proie en participant à la Chouette soirée!
-
Published 23/03/2018
L'histoire du faucon Spirit
-
Published 15/12/2017
Résultats du concours photo 2017
-
Published 10/12/2017
L'été des faucons émerillons
-
Published 30/11/2017